Special thank you to JJ Brown Music for "Say a Little Prayer."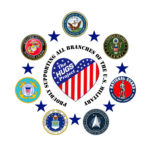 The Hugs Project was started in June 2004 by Ray and Karen Stark in Edmond, OK as a labor of love. They wanted to make sure every American service member knows they are loved and appreciated by those who remain at home enjoying the freedom they provide.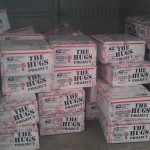 Weekly Care Packages are sent as a labor of love by members of The Hugs Project.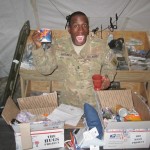 Andrew (Tree) Branch receiving a care package during his deployment many years ago.
As the war winds to a close, we still have over 10,000 deployed Troops in Iraq as well as Honduras, the Ukraine, Jordan, Poland, Romania, Kuwait, Cuba, Africa, etc. They are having trouble getting supplies because the stores aren't being restocked. The US Military doesn't want to go off and leave tons of supplies for whoever comes in next. So, even basic items are hard to come by.
Our troops work hard every day and when they finally get a break and can receive mail from home, we want them to find care packages overflowing with snacks, hygiene items, DVD's and CD's, Oreos, socks and other much-needed items. Most of all, we want them to experience the love we'll be tucking inside, along with cooling ties and other items that remind them someone cares.
Packing these boxes with items, and sending them out costs a lot of money. Whether you can help by sending us items to pack, or with monetary donations, any amount of help is appreciated. For a list of some items that we use in care packages, visit our Care Package Items page, or visit our Donation page to donate to our cause. No one in The Hugs Project draws a salary. All donations go directly toward supplies and care package items but also to our newest focus, Hyperbaric Oxygen Therapy.
We are now working with clinics in Oklahoma to help provide the most effective care for PTS (posttraumatic stress) and TBI (traumatic brain injury). The Hugs Project (through your generous donations) is funding care for returning Troops, Veterans and First Responders. No Military person in our therapy program will ever be asked to pay for treatment. They have already covered the price with their service to our country. Don't you agree? Please consider setting up a recurring monthly donation. It is very much needed and will be used wisely to provide for some outstanding and brave young men and women.
The treatment is called hyperbaric oxygen therapy (HBOT) and it's exciting to be on the ground floor of this effort. Studies in Israel and the U.S. have proven HBOT is the most effective treatment one can receive for brain injuries. If you want to learn more, visit the "About Us" page and please join our Facebook group (Hyperbaric Oxygen for Returning Troops and Veterans) at: https://www.facebook.com/groups/HBOTForTBI . You can also research "PTSd + Oxygen" on YouTube to learn more.
Here's a picture of a Military Veteran undergoing treatment to heal a non-healing staph infection he got in his amputated leg while in the hospital. He had 10 visits in 2 weeks. The infection totally healed and the rest of the leg was saved from further amputation.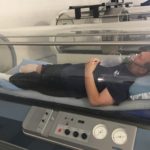 You can learn more about how you can become involved by sending an email via our Contact page. We are happy to help you get started supporting some of America's finest young men and women.